Cover For Doctor Who Magazine #462 Revealed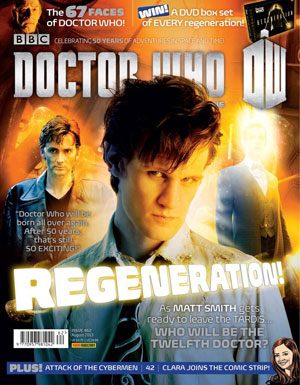 The cover for issue 462 of Doctor Who Magazine has been released. The latest front cover design features Matt Smith and David Tennant as the post-regeneration Tenth and Eleventh Doctors – inside, you'll see interviews and features on the upcoming regeneration of the Eleventh Doctor.
There's also a feature on the 67 faces of Doctor Who, and a competition to win the Regeneration boxset, amongst all the regular features of the magazine.
The 462nd issue of Doctor Who Magazine will be on sale from Thursday 27th June, and will be priced £4.75.
[Source: @DWMtweets]