Doctor Who: 50th Anniversary Culture Show Details & Air Date
Details and an air date of the special Doctor Who edition of BBC Two show The Culture Show, titled You, Me & Doctor Who, have been released.
The special, hosted by fan Matthew Sweet (who gave his name to the villain of the recent episode The Crimson Horror, Mr Sweet), will air on Friday 22nd November at 9pm on BBC Two. The press release for the special edition is as follows:
Lifelong fan Matthew Sweet explores the cultural significance of the BBC's longest running TV drama, arguing that it's one of the most important cultural artefacts of modern Britain. Put simply, Doctor Who matters. He'll examine how the show has become a cultural force in its own right and tell the stories of some of the unsung cultural heroes, who pioneered its innovative music, design and storytelling.
Sweet also teased the special on Twitter by tweeting a photo of him and Eleventh Doctor Matt Smith (complete with shaved head) talking together: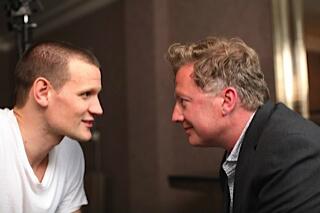 [Source: CultBox]