Doctor Who Adventures Issue 233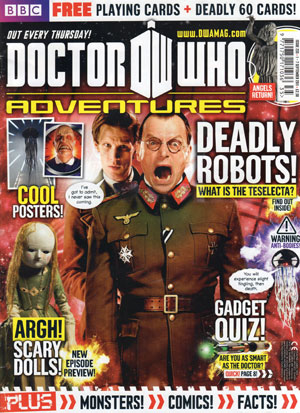 Doctor Who Adventures Issue 233
You know what I love? Things being cool. And they don't get much cooler than the things I've got for you this week.
There's cool moments from Let's Kill Hitler and a sneaky look at The next episode – it's very scary (but cool)!
Find out all about the Teselecta and why changing history is very not cool.
Plus, there's puzzles, jokes and Two cool strips. SEE? Cool!
Also in this issue…
*Angels return
*The Gadget quiz
*Changing History
*Who-Doku
*Night Terrors
*Vacuum Packed (comic strip)
*kiss of death and much more…
This week issue comes with Doctor Who playing cards and pack of deadly 60 cards.
Don't forget to check out the Doctor Who Adventures website www.dwamag.com to keep up to date with the very latest news from the Time Lord.