Doctor Who Adventures Issue 234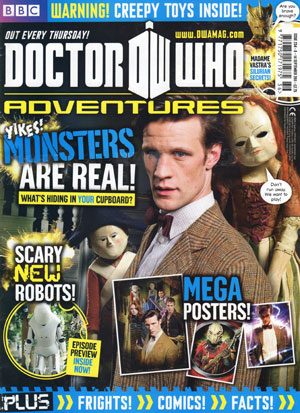 Doctor Who Adventures Issue 234


I hate nightmares, don't you? I've had lots recently, thanks to the Peg-Dolls. aren't they creepy?
That's why I've pot loads of the mega moments From when I met them in this issue – to remind me that They've gone! At least, I think they have…
Remember, whatever you do, DON'T open your cupboard.
No. we mustn't. Oh, go on… let's open the cupboard!
The Doctor
Also in this issue…
*They're all wearing eye patches
*Mega moments
*The Silence quiz
*Teachers taste like sprouts
*Mega monster search
*The girl who waited
*Funny phone call (Comic strip) and much more
Don't forget to check out the Doctor Who Adventures website www.dwamag.com to keep up to date with the very latest news from the Time Lord.
This weeks issue, priced £2.75, comes with a Doctor Who dress up set…