Doctor Who Adventures Issue 265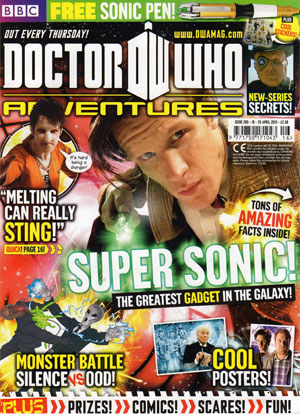 Monday 23 April is my mate and cool writer William Shakespeare's 448th birthday!
Oh, I remember being 448.Went for a stroll on the Moon – well, it mas more of a bounce because of the low gravity.Then I bumped into the Cybermen, who hadn't got me a present.
Anyway, happy birthday.
The Doctor
Also inside…
Secrets of the Doctor's sonic!
Check out the Series 7 trailer!
Matt's guide to The God Complex!
Doomland (comic)
The Ninth Doctor regenerates! and much more…
This weeks issue comes with a sonic screwdriver pen and stickers.
Next weeks issue comes with an Angel attack set!