Doctor Who Adventures Magazine Relaunched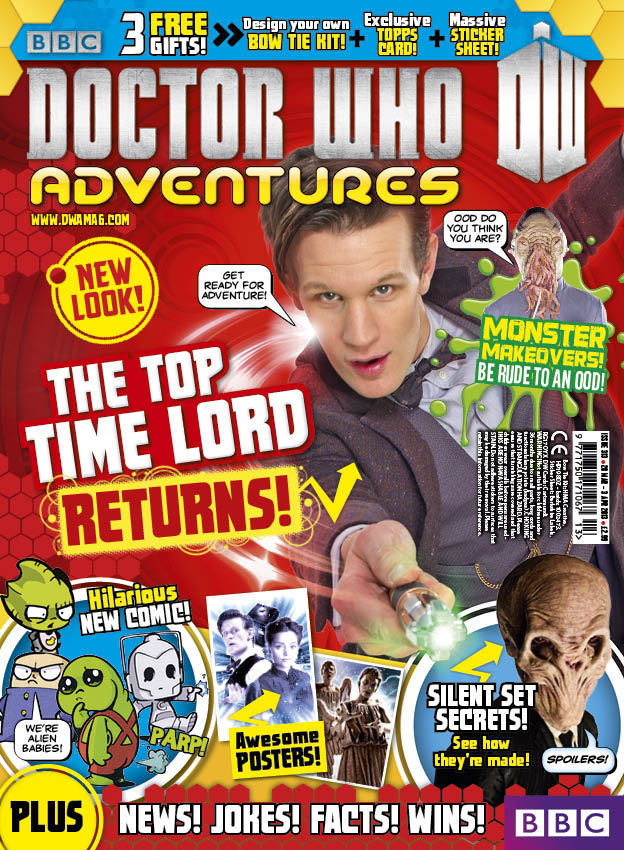 The cover for issue 313, the
first of the relaunched
magazines.
Doctor Who Adventures was relaunched on 28th March with issue 313, which will have three free gifts: a large sticker sheet, a design-your-own-bow-tie kit and an exclusive Topps card. The magazine includes new features as well as a new design.
As well as being available in physical print form, the magazine can also be downloaded as an app for the iPhone and iPad from App Stores in the UK, Australia and USA.
The Doctor Who Adventures website now has more content with a larger amount of videos and downloads.
The Doctor Who Experience in Cardiff is holding an event to celebrate the relaunch of the magazine on Wednesday 3rd April. Entitled "Monster Day Out", it will be the first event at the Experience exclusively for children. Visitors will be able to meet the character Strax, a Sontaran introduced as an ally of the Doctor in the Sixth series of the show, and will be able to find out more about him in special question-and-answer sessions. Three of these sessions will take place throughout the event, with the first being from 11:30am to 12:30pm and the second and third being from 1:30pm to 2:30pm and 3:30pm to 4:30pm respectively. Tickets for these sessions will be limited to 100 people per session. These tickets will need to be registered for by parents/guardians.
There will also be a Doctor Who Adventures comic artists' workshop at the event, where the children will be able to learn cartoon drawing skills. The show's choreographer, Alisa Berk, will also be there and will help the children to walk like a monster. They will also be able to make their own scary monster eggs at the aptly named "Eggsterminate" station. Every child attending will also be given a DWA goody bag.
Doctor Who Adventures editor Natalie Barnes had this to say about the relaunch of the magazine and the "Monster Day Out" event:
"We're really excited to be relaunching Doctor Who Adventures magazine with a dynamic new look and fantastic new content. This is a brilliant year for the show, and it's great to be a part of it. Our Monster Day Out is the perfect way for us to give something back to our readers, and for them to come face to face with one of the Doctor's most fearsome – and shortest – allies, Commander Strax!"
Tickets for the event will be free with a valid Doctor Who Experience ticket for the same day of the event.
[Source: Doctor Who News]