Doctor Who: Ask The Execs!
Edit: Question submissions are now closed
The BBC wants your questions! As we wait for the new series of Doctor Who this fall, what better way to pass the time than to send in your most thought-provoking, deep questions to the executive producers themselves, Brian Minchin and Steven Moffat? But not just any questions will do. The website says:
We'll pick some of your best questions and bring you the execs' answers very soon. So, if you can't get to San Diego for this year's Comic Con – don't worry! Let us put your questions to the execs and bring you their answers online. But here's the bit we can't stress strongly enough: we're looking for the most interesting and imaginative questions!

It's essential to avoid questions like what evil scheme does Missy dream up in the new series, or the details about how Osgood returns… These secrets will unfold when the new episodes air, later this year. We want questions that only Steven and Brian can answer… It could be about their best moments on set, favourite (or least favourite!) memories, monsters, earliest recollections of the show or how they decide what will happen to the Doctor and Clara…
So, if you have a question you've been wanting to ask the producers, you'd better hurry! The window for questions closes tomorrow, Tuesday 30 June, at noon BST. Questions will be received via email at thedoctor@bbc.co.uk, or by Twitter when you tweet @bbcdoctorwho using the hashtag #AskTheExecs.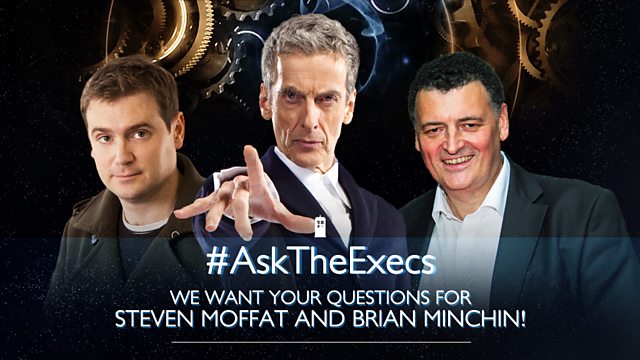 [Source: BBC]