Doctor Who: Capaldi Suits Up In Series 8 Filming – 28/1/2014
WARNING: This post contains spoilers for episode one of series eight. If you don't want to be spoiled, click away now!
Peter Capaldi was seen filming today in Queen Street, Cardiff city centre along with Jenna Coleman for series eight of
Doctor Who
– and for the first time, Capaldi was wearing his recently revealed costume! The Gallifrey Times has the latest pictures and news from today's filming.
The filming was believed to be for one of the concluding scenes of the opening episode of series eight, with a conversation between Capaldi's Doctor and Clara. You can see pictures below (click to enlarge).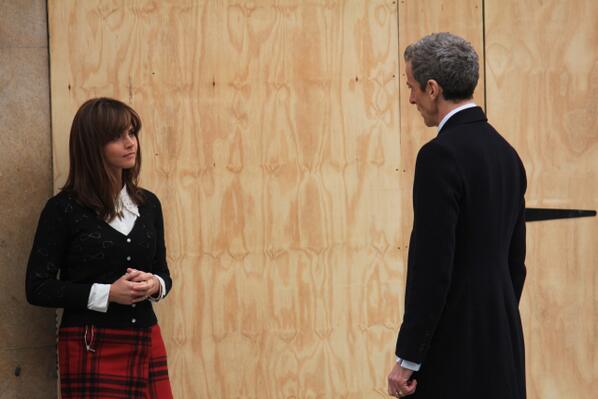 The Doctor and Clara argue.
MAJOR SPOILER (highlight text to read) The phone call Clara takes is the Eleventh Doctor saying goodbye to Clara from Trenzalore. Set reporters have claimed that Matt Smith has recorded new material for this, and the Eleventh and Twelfth Doctors will even speak to each other at one point! (end spoiler).
Thanks to @RyanFarrr for these set pictures!
Doctor Who series eight airs in autumn.