Doctor Who: The Complete Guide to Face the Raven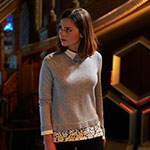 After last week's found footage outing, it's back to Earth for the Doctor and Clara, who find themselves tangling with old acquaintances on a hidden street in London. With major events promised for this instalment, here's everything you need to know about Face the Raven:
Synopsis (Radio Times)
The Doctor and Clara are reunited with Rigsy, the `pudding brained' grafitti artist who gained the Time Lord's respect by helping him face off an invasion by inter-dimensional beings known as the Boneless in Bristol. Together the trio investigate a strange alien world hidden on a street in the heart of London. They soon discover this unusual road is sheltering some of the most fearsome creatures in the universe – including the immortal Viking Ashildr.
The international broadcast times for Face the Raven are as follows:
UK – Tonight at 8.15pm on BBC One
US – Tonight at 9/8C on BBC America
Canada – Tonight at 9pm on SPACE
Asia Pacific – Tomorrow at 10am SGT on BBC Entertainment
New Zealand – Tomorrow at 7.30pm on Prime
Australia – Tomorrow at 7.40pm on ABC1
South Africa – Saturday 28th November at 6pm on BBC First
India – Sunday 6th December at 11pm on FX
Finland – Monday 7th December at 6.05pm on YLE2
The cast list for Face the Raven is as follows:
The Doctor – Peter Capaldi
Clara – Jenna Coleman
Rigsy – Joivan Wade
Ashildr – Maisie Williams
Kabel – Simon Manyonda
Rump – Simon Paisley Day
Anahson – Letitia Wright
Chronolock Guy – Robin Soans
Alien woman – Angela Clerkin
Habrian woman – Caroline Boulton
Elderly woman – Jenny Lee
Jen – Naomi Ackie
Here's two trailers for the episode:
Here's a clip:
Be sure to stay tuned to The Gallifrey Times after the episode at 9pm for a poll where you can share your opinions on the episode, behind the scenes content and trailers for Heaven Sent!