Doctor Who: The Complete Guide to The Zygon Invasion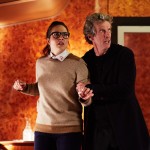 Two years ago, three Doctors helped to create a peace treaty between humans and Zygons under the Tower of London… but the treaty isn't going to hold for much longer. The Zygon Invasion airs tonight, and to whet your appetite for tonight's beginning of another two-parter, here's all you need to know:
Synopsis (Radio Times)
The Zygons have been living in secret on Earth, unknown and unseen – until now. When Osgood is kidnapped by a rogue gang of the shapeshifting aliens, the Doctor, Clara and UNIT must scatter across the world in a bid to set her free. But will they reach her in time, and can they stop an uprising before it's too late?
The international broadcast times for The Zygon Invasion are as follows:
UK – Tonight at 8.15pm on BBC One
US – Tonight at 9/8C on BBC America
Canada – Tonight at 9pm on SPACE
Asia Pacific – Tomorrow at 10am SGT on BBC Entertainment
New Zealand – Tomorrow at 7.30pm on Prime
Australia – Tomorrow at 7.40pm on ABC1
India – Sunday 15th November at 11pm on FX
Finland – Monday 16th November at 6.05pm on YLE2
The cast list for The Zygon Invasion is as follows:
The Doctor – Peter Capaldi
Clara – Jenna Coleman
Osgood – Ingrid Oliver
Kate – Jemma Redgrave
Jac – Jaye Griffiths
Claudette – Cleopatra Dickens
Jemima – Sasha Dickens
Walsh – Rebecca Front
Little boy – Abhishek Singh
Little boy's mum – Samila Kularatne
Hitchley – Todd Kramer
Lisa – Jill Winternitz
Norlander – Gretchen Egolf
Hitchley's Mum – Karen Mann
Here's two trailers for the episode:
And here's two clips:
Be sure to stay tuned to The Gallifrey Times after the episode at 9.05pm for a poll where you can share your opinions on the episode, behind the scenes content and trailers for The Zygon Inversion!