Doctor Who: Dark Water – Poll Results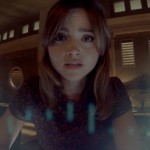 For the past week you've been voting in our two polls for Dark Water – our 'rate the episode' poll and our Question of the Week poll. We've now closed both polls and you can view the results below:
First up, our rate the episode poll. After the lukewarm response to episode ten (you can view those results
here
), it was another positive one for TGT voters, with almost two-thirds giving the episode full marks:
Absolutely amazing – 62.21%
Very good – 25.58%
OK – 7.56%
Not too great – 2.33%
Awful – 2.33%
You can see the updated Series 8 leaderboard below, showing the average scores for each poll – we'll be continuing to update it weekly to show your favourite episodes of the series so far. It was a close call, but Dark Water narrowly missed out on a podium position, coming in at number four:
Listen – Average of 4.54/5
Flatline – Average of 4.48/5
Mummy on the Orient Express – Average of 4.47/5
Dark Water – Average of 4.43/5
Deep Breath – Average of 4.20/5
The Caretaker – Average of 4.0/5
Time Heist – Average of 3.96/5
Into the Dalek – Average of 3.87/5
Robot of Sherwood – Average of 3.66/5
Kill the Moon – Average of 3.53/5
In the Forest of the Night – Average of 3.35/5
Dark Water's Question of the Week asked: 'Will Danny press delete?'. We last saw Danny struggling over the decision to press the button that would seemingly turn him into a Cyberman, but would he go through with it – or be forced to? Or would he resist? It was a relatively divided response, but TGT voters voted 'no' in the end:
We'll have a rate the episode poll for Death in Heaven up straight after the episode tonight at 9pm, with our final Question of the Week of the series coming tomorrow.