Doctor Who: Empress of Mars – Final UK Viewing Figures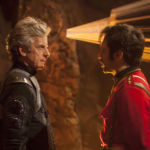 The consolidated viewing figures for the ninth episode of Series 10, Empress of Mars, have been released.
The episode had 5.02 million viewers after a week of recordings, a rise of 1.43 million on the overnight figure of 3.59 million. That's a tick up on the Lie of the Land, but a very low timeshift.
Doctor Who was 10th for the week on BBC One behind four episodes of EastEnders, Poldark, Antiques Roadshow, Countryfile and two editions of BBC News.
[Source: BARB]