Doctor Who: Empress of Mars – Overnight UK Viewing Figures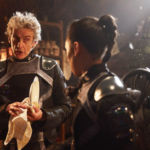 The overnight UK viewing figures for last night's episode, Empress of Mars, have been released.
The episode had 3.59 million viewers on average, a rise of over half a million from last episode which received a season low of 3.01 million. Here's how it stacks up to the rest of the season so far:
The Pilot – 4.64 million
Knock Knock – 4.32 million
Smile – 4.25 million
Extremis – 4.16 million
The Pyramid at the End of the World – 4.01 million
Thin Ice – 3.76 million
Empress of Mars – 3.59 million
Oxygen – 3.57 million
The Lie of the Land – 3.01 million
Doctor Who
was fourth for the day, behind
The Voice Kids,
coverage of England v Scotland and
Casualty
, and third on BBC One.
[Source: Gallifrey Base]