Doctor Who: Face the Raven Cast List Revealed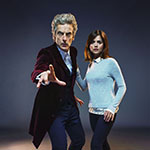 The Radio Times have released the cast list for episode ten of Series 9, Face the Raven, revealing a few tantalising hints about what to expect in the antepenultimate episode of the series. You can read the cast list below:
WARNING: The cast list contains one previously revealed spoiler some may prefer to avoid.
The Doctor – Peter Capaldi
Clara – Jenna Coleman
Rigsy – Joivan Wade
Ashildr – Maisie Williams
Kabel – Simon Manyonda
Rump – Simon Paisley Day
Anahson – Letitia Wright
Chronolock Guy – Robin Soans
Alien woman – Angela Clerkin
Habrian woman – Caroline Boulton
Elderly woman – Jenny Lee
Jen – Naomi Ackie
Face the Raven airs on Saturday 21st November at 8.10pm on BBC One.