Doctor Who: Hell Bent Broadcast Time Confirmed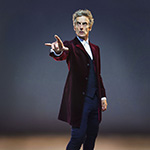 The BBC have confirmed that the twelfth and final episode of Series 9, Hell Bent, will air on Saturday 5th December at 8pm on BBC One.
The finale will run for a notably extended 65 minutes, the longest series finale along with Journey's End, and finishes at 9.05pm. Hell Bent, penned by Steven Moffat, will air on the same day on BBC America at 9/8C.
If you took everything from him, betrayed him, trapped him, and broke both his hearts…how far might the Doctor go? Returning to Gallifrey, the Doctor faces the Time Lords in a struggle that will take him to the end of time itself. Who is the Hybrid? And what is the Doctor's confession?
[Source: BBC]