Doctor Who: Jenna Coleman on the 2014 Christmas Special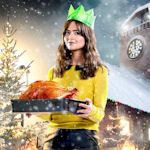 WARNING: This post contains some mild spoilers about this year's Christmas Special. If you want to stay completely spoiler-free, click away now!
We still have the series eight finale to come, but Jenna Coleman has been chatting about this year's Christmas Special in an interview with InStyle – dropping some interesting hints about 2014's festive instalment and confirming a rumour about who guest star Nick Frost is playing.
Coleman stated:
"It's written in sections and it's about dreaming – what is real and what is not. Also Father Christmas is there – played by Nick Frost!"
This confirms the long-held rumour that Nick Frost of Shaun of the Dead and Hot Fuzz fame will be playing Santa Claus in the Christmas Special – what do you think of the news? Leave a comment below!


The Christmas Special will air on Christmas Day on BBC One.
[Source: Gallifrey Base]