Doctor Who: The Lie of the Land – Overnight UK Viewing Figures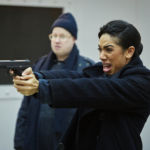 The overnight UK viewing figures for last night's episode, The Lie of the Land, have been released.
The episode had 3.01 million viewers, a drop of a million from last week's rating of 4.01 million, and the lowest rating of the season so far. It's worth noting that the episode went up against the final of Britain's Got Talent for the entirety. Here's how it stacks up to the rest of the season so far:
The Pilot – 4.64 million
Knock Knock – 4.32 million
Smile – 4.25 million
Extremis – 4.16 million
The Pyramid at the End of the World – 4.01 million
Thin Ice – 3.76 million
Oxygen – 3.57 million
The Lie of the Land – 3.01 million
Doctor Who
was third for the day, behind
Britain's Got Talent
and
Casualty
, and second on BBC One on an exceptionally low-rated night.
[Source: Gallifrey Base]