Doctor Who: Listen Cast List Revealed (SPOILERS)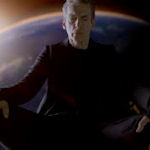 WARNING: This post contains spoilers for Listen – if you don't want to be spoiled, click away now!
The Radio Times have revealed the cast list for episode four of Series 8, Listen – and there's some very intriguing additions to the cast. You can have a look at the (short) cast list below, but beware of spoilers!
The Doctor – Peter Capaldi
Clara – Jenna Coleman
Danny Pink – Samuel Anderson
Rupert Pink – Remi Gooding
Reg – Robert Goodman
Figure – Kiran Shah
What do you think of the cast additions? Leave a comment below!
[Source: Blogtor Who]