Doctor Who: Listen – Poll Results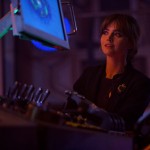 For the past week you've been voting in our two polls for Listen – our 'rate the episode' poll and our Question of the Week poll. We've now closed both polls and you can view the results below:
First up, our rate the episode poll. After last week's mixed reaction (view that
here
),
Listen
saw a near-unanimous positive response, easily topping the series so far and rivalling 50th anniversary special
The Day of the Doctor
:
Absolutely amazing – 66.47%
Very good – 24.55%
OK – 7.19%
Not too great – 0%
Awful – 3.18%
Average score – 4.5
Listen's Question of the Week focused on a question left unanswered by the episode – was there a monster in the episode? Was the thing under Rupert's bedspread alien, and was there something monstrous at the end of the universe, or was it just the imagination of the characters? It was a fairly close call, but TGT voters decided that there wasn't actually a monster at all:
We'll have a rate the episode poll up for Time Heist up straight after the episode tonight at 8.20pm, with our Question of the Week coming tomorrow.