Doctor Who: A New Monster Arrives in Series 8 Filming – 19/03/2014
WARNING: This post contains spoilers for episode four of series eight. If you don't want to be spoiled, click away now!
Filming on Block Two of Doctor Who series eight – episodes four and five, continued yesterday – and recording saw a glimpse of a strange new Minotaur-type monster for episode four. You can a photo, courtesy of Ryan Farr (Timeboy) below:
You can also see a picture of the Twelfth Doctor and Clara arriving at the scene below: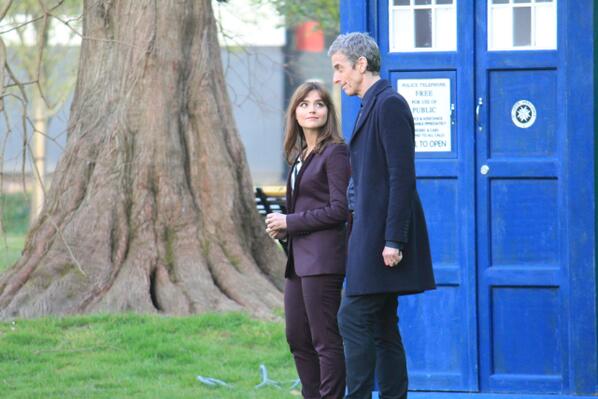 MILD SPOILERS FOLLOW
Further details of episode four, penned by Steven Moffat, were also leaked. The episode, which introduces Samuel Anderson's Danny Pink, will see a strange monster who reportedly feeds off people talking to themselves – the premise was described in a voiceover as 'when you talk to yourself, what if the person you're talking to isn't really you'?
Clara will reportedly be distracted by something which leads to her paying the price later as Danny comes back aged, but the reasons for this are yet to be revealed.
Doctor Who series eight airs in autumn.