Doctor Who: The Pyramid at the End of the World – Final UK Viewing Figures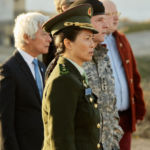 The consolidated viewing figures for the seventh episode of Series 10, The Pyramid at the End of the World, have been released.
The episode had 5.79 million viewers after a week of recordings, a rise of 1.78 million on the overnight figure of 4.01 million. That's a better timeshift for the show after a few anaemic catch-up figures, and one that puts it above Extremis' final rating of 5.53 million despite that episode starting from a higher overnight figure.
Doctor Who was 6th for the week on BBC One, behind four episodes of EastEnders and the FA Cup final, and 14th for the week overall, higher than usual chart placings for the show.
[Source: BARB]