Doctor Who: Robot of Sherwood Broadcasts Tonight!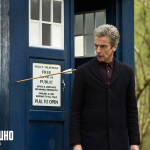 It's time to head off to medieval Sherwood – Robot of Sherwood airs tonight, and to whet your appetite for tonight's Robin Hood adventure, here's all you need to know about episode three:
Synopsis (Thanks to Radio Times)
The Time Lord finds himself in Sherwood Forest, where he discovers an evil plan from beyond the stars to destroy Nottingham. He soon finds himself an ally – none other than Robin Hood – but the Doctor struggles to believe the mythical hero is actually real, and the pair end up bickering when they should be thwarting the intergalactic menace.
The international broadcast times for Robot of Sherwood are as follows:
UK – Tonight at 7.30pm on BBC One
US – Tonight at 9/8C on BBC America
Canada – Tonight at 9pm on SPACE
Germany – Tonight at 9pm on FOX (English version with German subtitles)
Finland – Tomorrow at 7.10pm on YLE2
Australia – Tomorrow at 4.30am (simulcast), 7.40pm (repeat) on ABC1
Poland – Tomorrow at 6pm on BBC Entertainment
New Zealand – Sunday 14th September at 7.30pm on Prime
The full cast list for Robot of Sherwood is as follows:
The Doctor – Peter Capaldi
Clara – Jenna Coleman
Robin – Tom Riley
Quayle – Roger Ashton-Griffiths
Sheriff – Ben Miller
Alan-a-Dale – Ian Hallard
Friar Tuck – Trevor Cooper
Little John – Rusty Goffe
Will Scarlett – Joseph Kennedy
Walter – Adam Jones
Quayle's ward – Sabrina Bartlett
Herald – David Benson
Guard – David Langham
Knight – Tim Baggaley
Voice of the Knights – Richard Elfyn
Here's two trailers for Robot of Sherwood:
And here's two clips:
Be sure to stay tuned to The Gallifrey Times after the episode at 8.20pm for a discussion & poll, episode three of behind-the-scenes show Doctor Who Extra and trailers for Listen!