Doctor Who: Robot of Sherwood – Spoiler-Free Preview
Doctor Who: Series 8, Episode 3
Robot of Sherwood


Written by: Mark Gatiss
Directed by: Paul Murphy
Broadcast Date: Saturday 6th September at 7.30pm on BBC One
Rewiewed by Louis Rabinowitz for The Gallifrey Times


The Gallifrey Times have seen Robot of Sherwood and have put our spoiler free preview together.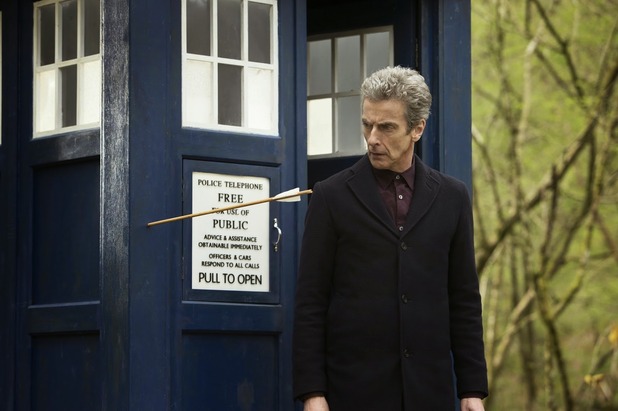 Who shot the arrow?
There's been plenty of hype about the new, dark tone Doctor Who would be taking on this year – with grittier stories and more cerebral plots – and the first two episodes of the run ticked those boxes rather well. Robot of Sherwood, on the other hand, completely ditches the dark tone for something a little more comedic.
Robot of Sherwood sees the show back in romp territory – it's big, dumb fun that's heavy on the laughs and light on navel-gazing and moral dilemmas. In the true style of a Robin Hood adventure, it's very much an old-fashioned 'good vs evil' tale with a pantomime villain and courageous heroes. It's the sort of fast-paced movie-style adventure that could have slotted into the Matt Smith or David Tennant eras easily – except for the one element that flips the episode on its head – the Twelfth Doctor.
Archery lessons with Robin Hood…
Grumpy and cynical from start to finish, Peter Capaldi is a delight this episode, playing up this new Doctor's irritable nature as he clashes with the Merry Men and Robin Hood himself, consistently clashing with Robin and refusing to believe that the legend is true. It's not exactly the morally ambiguous Doctor you've seen in the previous two episodes, but it's terrific fun to see Peter Capaldi take use of his impressive comedic skills.
Robot of Sherwood is of course a proper Robin Hood tale with all the trimmings and cliches that you know and (maybe) love. It might feel a little familiar if you've ever seen an iteration of the Robin Hood legend, but that's very much the point – it's everything you'd expect from a Robin Hood adventure, except with the Doctor himself to question the entire situation; and to have plenty of arguments with the hooded man himself.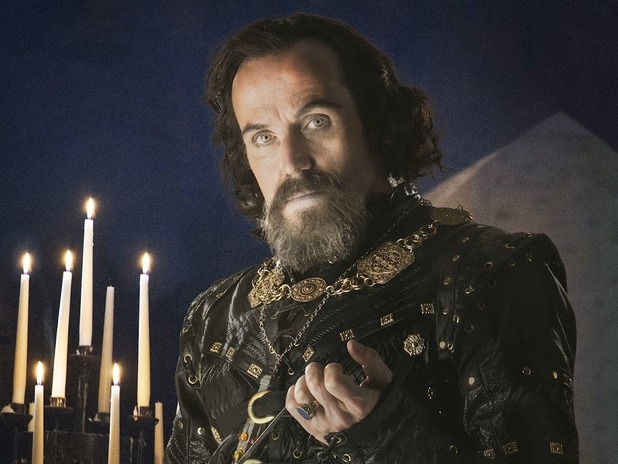 Spoiler: he's evil.
Guest star Tom Riley is a strong Robin Hood – it's a traditional heroic portrayal of the character, except played a little more for laughs. And Riley's never stronger than when he's pitted against Capaldi in several scenes – and unsurprisingly, each and every scene in which both characters feature is a joy to watch as the two bicker their way through half the episode. Fellow guest star Ben Miller is also very enjoyable as the Sheriff of Nottingham – and in grand Sheriff tradition, he's a proper insane villain – no tragic backstories or sympathetic motivations here, just pure, fun pantomime antics.
Robot of Sherwood has a major flaw however – the villain's plot, involving robots (surprise!), is a fun enough backdrop (and it's a strange sight to see Robin Hood face off against robots), but it's fairly standard Doctor Who stuff – you'll have seen it before, and you'll probably see it again several times. It's not high on Robot of Sherwood's priorities at least (bickering takes precedent), but it's hard to imagine a more generic villainous plan, and it does somewhat detract from part of the episode.
Overall, Robot of Sherwood is a fun blast of action-packed entertainment – it's not the type of episode that will be debated and discussed for weeks, and the plot is a long way from original, but it's a great comedic episode that acts as a palate-cleanser after two darker episodes. And if you want dark, then the Next Time trailer shows that Listen will deliver on that front – in a very big way.
The Gallifrey Times Rating: 8/10
Thanks to the BBC for providing a preview of this episode.