Doctor Who: Series 10 – The Complete Episode Guide
Series 10 of Doctor Who won't air until 2017, but filming has been underway for a while now for the run of episodes that will mark the introduction of Pearl Mackie as new companion Bill, and filming has been public enough to give us a small glimpse into how the tenth series since the revival in 2005 will shape up.
With that in mind, here is our traditional, comprehensive episode guide for the series ahead, which will be updated regularly throughout filming as more writers, directors and guest stars are confirmed leading up to the spring premiere date.
Warning: This post may contain some minor filming spoilers, so click away if you don't want to know anything about the upcoming series!
Updated on 11th March.
EPISODE ONE – THE PILOT
Written by: Steven Moffat
Directed by: Lawrence Gough
Filming block
: Block One, filmed June-July (Production began on Monday 20 June)
What's it about? The season opener, The Pilot, marks the introduction of Pearl Mackie as new companion Bill to the show, as well as the re-introduction of Matt Lucas as Nardole, who will be a regular presence throughout the series. for the story, it looks as if the Doctor might meet Bill in a university setting, with signs up for St Luke's University in Bristol, where an alien menace that possesses certain people begins to infect the campus through water. The Doctor will be a professor at the university who Bill, a canteen worker who sneaks into lectures, will collide with.
The episode will also incorporate a retooled version of the clip used to introduce Bill as the new companion, Friend from the Future, which means that, as with the short, the Daleks will appear here in a wartime setting. From the looks of it, however, this will not be the main plot of the episode and instead looks like a cutaway scene.
Guest stars: Stephanie Hyam plays a university friend of Bill's.
Written by: Frank Cottrell Boyce
Directed by: Lawrence Gough
Filming block:
Block One, filmed July (Production concluded on Thursday 28 July)
What's it about? Episode two, rumoured to be titled Smile, will be set either in the far future or on an alien planet, which is represented by the Valencia Science Museum where the show filmed on location. The bad guys here are the 'Emojibots' (it's unclear whether this is just a nickname that they've been given or their real name), robots with smiley faces who turn people to skeletons. Some of the vistas from the first trailer indicate a setting reminiscent of the movie Tomorrowland, with a futuristic city enclosed inside a cornfield.

Guest stars: Ralf Little (The Royle Family) guest stars as a character named Steadfast, with Mina Anwar and Kaizer Ahktar playing Goodthing and Praiseworthy.
Written by: Sarah Dollard
Directed by: Bill Anderson
Filming block:
Block Two, filmed August (Production begins on Monday 1 August)
What's it about? Working with the formula set in stone back in Series 1, episode three, Thin Ice, will be a historical episode, set in Regency-era England during a wintery 'Frost Fair' (celebrations that occurred regularly during Britain's unusually cold Little Ice Age period) where the Thames has frozen over. Underneath the frozen river lurks a giant serpent monster of some kind, whom the Doctor and Bill will don old-school metallic diving suits to confront.
EPISODE FOUR – KNOCK KNOCK
Written by: Mike Bartlett
Directed by: Bill Anderson
Filming block:
Block Two, filmed August
What's it about? Knock Knock, previously rumoured to be titled The Haunted Hub, looks to be a classic haunted house story partially set in a manor where we'll find out what lurks under the floorboards. This episode features creepy wooden monsters, and rumours indicate that some giant woodlice will also be making a lovely cameo. As ever, episode four seems to be the spooky one.
Guest stars: David Suchet, famous for his role as Agatha Christie's detective Poirot in numerous adaptations, stars as the Landlord.
Written by: Jamie Mathieson
Directed by: Charles Palmer
Filming block: Block Four, filmed October-November
What's it about? Jamie Mathieson has called Oxygen a "taut thrill ride, a pitch black satire, a gag fest", while Steven Moffat has praised its fear factor. Plot details, however, are thin on the ground. It'll definitely involve a space setting with the old reliable orange jumpsuits in action, and the guest cast appears to comprise a spaceship crew, of which one is a blue alien (who you can see confronting Bill there).
Guest cast: Beowulf's Kieren Bew as Ivan, Peter Caulfield as Dahhren, the blue alien in question, Karen Breyben, Justin Salinger and Mimi Ndiweni, who seem to be the line-up of the space crew who'll confront the Doctor, Bill, and Nardole.
EPISODE SIX – EXTREMIS
Written by: Steven Moffat
Directed by: Daniel Nettheim
Filming block: Block Five, filmed November-December
What's it about? Here's where things get a bit hard to untangle. The second half of the season was filmed much more quietly with fewer announcement, so it's harder to clearly mark which bits belong to which episode. What we know for sure is that this episode is called Extremis, that it features the return of Michelle Gomez as Missy, that it involves Catholic priests, as seen in the trailer, and that parts are set at the Swiss particle accelerator, CERN. The specifics of how that all slots together are unclear, and it gets more uncertain when you look at the next episode. Since it's penned by Moffat, however, it can be surmised that it's of importance to the season arc.
Guest cast: Michelle Gomez is back, and other guest stars include Laurent Maurel and Corrado Invernizzi as Cardinal Angelo, who seems to be comforting the Doctor in the above picture.
EPISODE SEVEN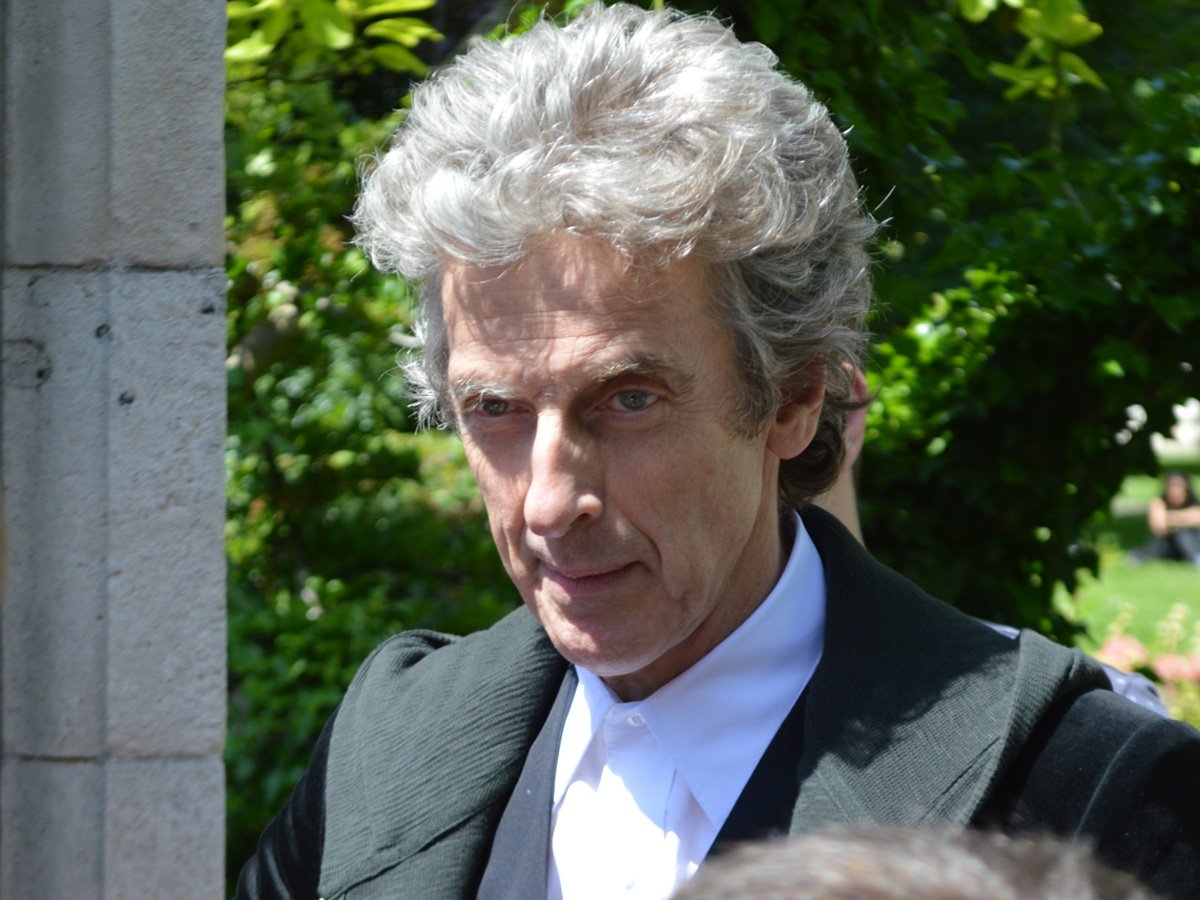 Written by: Peter Harness
Directed by: Daniel Nettheim
Filming block: Block Five, filmed December-January
What's it about? Unclear. Filming for the episode took place in Tenerife, used for The Magician's Apprentice and The Witch's Familiar as Skaro (other Canary Islands, Fuerteventura and Lanzarote, have been used as Gallifrey and the Moon in Hell Bent and Kill the Moon), and as the picture above shows, it involves United Nations Peacekeepers and the Secretary-General – so don't expect an alien planet! It may involve 'grey aliens' as the villains, so, conjecturing it all together, this could be a 'first contact' kind of story for a new species. It's been rumoured that there are some links with episode six, but if that's the case, it'll be along the lines of The Girl Who Died/The Woman Who Lived as opposed to an actual two parter.
EPISODE EIGHT
Picture credit to WalesOnline
Written by: Toby Whithouse
Directed by: Wayne Yip
Filming block: Block Six, filming January/February
What's it about? Quite a lot of episode eight filmed on location in Cardiff, allowing us a substantial insight into the story. It'll revolve around the creepy robed foes pictured above, who work in conjunction with armoured 'Memory Police'. Several signs reading 'TRUTH' have been spotted around filming, too, which could suggest some kind of dystopian setting where specific 'facts' are enforced. Does this seem familiar to anyone?
EPISODE NINE
Written by: Mark Gatiss
Directed by: Wayne Yip
Filming block: Block Six, filmed January-February
What's it about? Mark Gatiss' customary episode is bringing back the Ice Warriors, whom he revived in 2013's Cold War, this time for an adventure to their homeworld, Mars. We've been promised a new kind of Ice Warrior, which, from the looks of the glimpse in the teaser above, could be a female variation of the species.
EPISODE TEN – THE EATERS OF LIGHT
Written by: Rona Munro
Directed by: Charles Palmer
Filming block: Block Four, filmed October
What's it about? Originally slated for episode nine until it was switched with Gatiss' episode, The Eaters of Light sees the return of classic series writer Rona Munro, whose last story came all the way back in 1989 with Survival. The episode seems to be set in the past in rural Scotland, and it'll feature Roman soldiers.
EPISODES ELEVEN & TWELVE – THE FINALE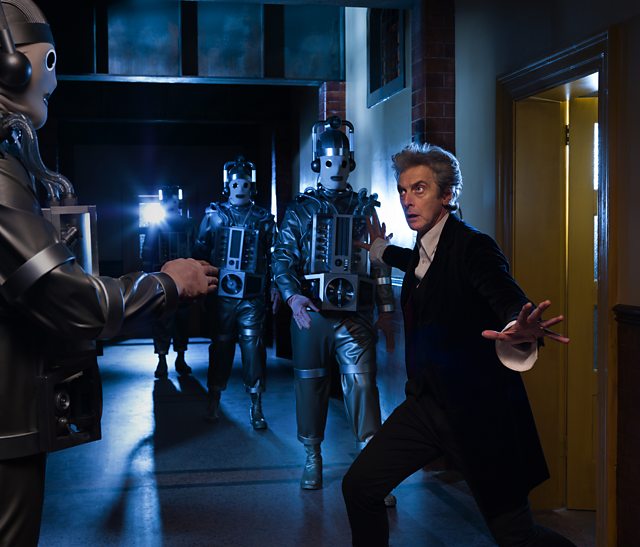 Written by: Steven Moffat
Directed by: Rachel Talalay
Filming block: Block Seven
What's it about? Episodes eleven and twelve will comprise a two-part finale, and the big headline here is the return of the Mondasian Cybermen – the very original model of the metal monsters from Earth's twin planet who appeared in First Doctor serial The Tenth Planet. To back them up, filming has also revealed that the Cybus Cybermen from Rise of the Cybermen and the new model of Cybermen from Nightmare in Silver will appear. Set reporters have indicated that the finale will be set in a post-invasion dystopia where the Cybermen are using hospitals to convert humans. On top of that, there's the return of Michelle Gomez as Missy to unpack!
That's it for Series 10, which will air as an uninterrupted run of twelve episodes from Saturday 15 April. It'll be followed by a Christmas Special which will see the final appearance of Peter Capaldi as the Twelfth Doctor, and the last episode written by Steven Moffat as head writer. We'll update this with more news when the traditional titles and more detailed previews come in in the next few weeks.