Doctor Who: Series 9 to Begin in September?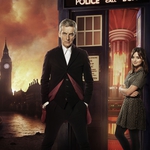 Every fan of Doctor Who has been asking the same question. "When will Series 9 be on TV?" While there has been much speculation on the subject, an answer may have just possibly been released.
Doctor Who producer Nikki Wilson wrote on Twitter stating, "We'll be back in September", after a fan had asked about the matter. But shortly after, the tweet was deleted. Whether it was an accidental slip up, or she couldn't confirm it, the answer is still unknown.
Last year, the new series began on Saturday 23rd August, falling at the same time as the summer bank holiday, which is 29th August this year. Unless however, Wilson was giving us correct information – then we'll have to wait just a little bit longer for the new series to begin its run!
[Source: Doctor Who TV]