Doctor Who: Sleep No More – Appreciation Index Score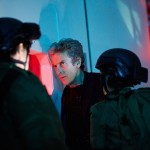 The most recent Doctor Who, episode Sleep No More received an Audience Appreciation score (AI) of 78.
Sadly this seems to be a series low and is only the second time a Doctor Who AI score has dropped below 80 since the system began in 2005. Only the 2006 episode Love And Monsters scored lower at 76.
AI scores are judged by a specially selected panel of 5000 people who rate shows in terms of how much they have enjoyed them.
[Source: Doctor Who News]