Doctor Who: Sleep No More – Final UK Viewing Figures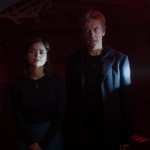 The consolidated viewing figures for episode nine of Series 9, Sleep No More, have been released.
The episode had 5.61 million viewers after a week of recordings, a rise of 1.61 million on the overnight rating of 4 million. That's the lowest rating of the season by a touch, and represents an unusually low timeshift that may have been hit by poor word of mouth (given the episode's equally unusual AI of 78).
Doctor Who was the fourteenth most watched programme of the week on BBC One behind two episodes of Strictly Come Dancing, the Children in Need charity telethon, The Apprentice, Countryfile, three episodes of EastEnders, Antiques Roadshow and several editions of the News. The episode finished 28th for the week overall.
[Source: Doctor Who News]