Doctor Who: The Sleepers In The Dust – Exclusive Audio Story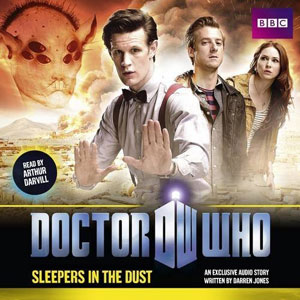 Doctor Who: The Sleepers in the Dust
The Sleepers in the Dust is a brand new audio exclusive story featuring the 11th Doctor, Amy and Rory, as played by Matt Smith, Karen Gillan and Arthur Darvill in the hit BBC One TV series.
Written by Darren Jones, it features the return of the Nadurni, whom the Doctor first encountered in last year's audio original The Eye of the Jungle.
On an apparently lifeless world, the Doctor and his friends battle against plague. Will they find the cause – and the cure?
Arthur Darvill – Rory in the TV series – reads this nail-biting original adventure.
Due for release on 01 November 2012.
Thanks to The Doctor Who Site.