Doctor Who Smartphone Game & App Gun Revealed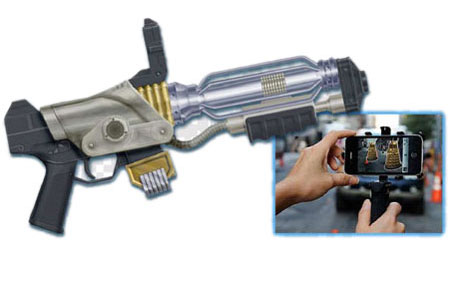 A new smartphone Doctor Who game and app gun has been revealed by AppGear. We've included all the information available below:
As Earth nears total destruction by his old enemies, The Eleventh Doctor is tasked for a last-ditch mission to save the planet in this immersive first-person shooter for iPhone and Android smartphones.
Features:
Connect Smart device to Doctor Who Dalek/Cyberman Pistol to turn your world into a digital battlefield.
Aim pistol and pull trigger to shoot Daleks, Angels and Cybermen in the game.
Point Pistol down to reload ammo.
Controls use the first-person viewpoint with pan and tilt function.
Product may vary from that shown…
Below are a few screenshots of the beta version of the upcoming iOS app which is close to being finished. The app is now available on Android and will become available on iOS (demo only) soon.
Featured within the game, you can battle Daleks, Cybermen and Weeping Angels (which only move when the screen blinks or when they are behind you!)
The app can be combined with a future QLA Device.