Doctor Who: Twice Upon a Time – Overnight UK Viewing Figures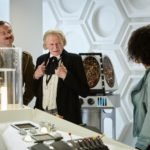 The overnight UK viewing figures for last night's Doctor Who Christmas special, Twice Upon a Time, have been released.
The special had 5.66 million viewers and a share of 27.1% of the overall viewing audience. That's almost identical to last year's figure of 5.68 million, and stable from 2015's rating.
Doctor Who was sixth for the day, higher than last year (and also stronger than all of ITV's programming) in a tightly packed leaderboard:
Mrs Brown's Boys – 6.80 million
Strictly Come Dancing – 6.46 million
Call the Midwife – 6.34 million
EastEnders – 6.29 million
The Queen – 5.93 million
Doctor Who – 5.66 million
Coronation Street – 5.07 million
The Highway Rat – 4.02 million
Emmerdale – 3.73 million
Cinderella – 3.59 million
The consolidated viewing figures will be released next week.