Doctor Who: Under the Lake BBC Synopsis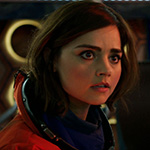 The BBC Media Centre have released an official synopsis for episode three of Series 9 and part one of two, Under the Lake, which you can see below:
When an Underwater Base comes under attack, the Doctor and Clara must save the frightened crew and defeat an impossible threat. But what is behind these terrifying events? And can they really be haunted by ghosts?
Under the Lake airs on Saturday 3rd October on BBC One, with the time to be confirmed next week.
[Source: BBC]