Doctor Who: The Zygon Invasion – 10 Exclusive Teasers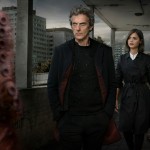 The Gallifrey Times have seen The Zygon Invasion, and have put together our set of ten spoiler-free teasers, which you can see below:
A Box for Osgoods
"In-fact, you two are the big blobs"
127 missed calls
"Protect it from the scary monsters, and also from the Zygons."
Elevators really are quite creepy.
"They're using us against you."
"There have been reports all around London of strange activity…"
No British, No Dogs
"This is the last resort. The final sanction."
"I am the peace."
BONUS The Zygon Inversion trailer teaser (highlight below)
No Next Time trailer this time!