Happy Birthday To David Tennant!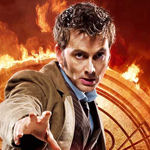 Allons-y! Hot on the heels of Peter Davison and Peter Capaldi, it's David Tennant's turn to celebrate a birthday, becoming 44 years old today. Many happy returns David!
The Tenth Doctor blew onto our screens with The Christmas Invasion in 2005 and picked up the reigns of New Who playing a major part in accelerating the show to the dizzy heights we know now. With his dapper pinstripe appearance, David Tennant was the second Scot to climb aboard the TARDIS, though he chose to play the part with an uncanny English accent. In 2010 Tennant made an emotional goodbye to Doctor Who in The End of Time, but he made a significant reappearance as the Tenth Doctor for a major role in Doctor Who's epic 50 year anniversary episode, The Day of the Doctor,in 2013.
We hope you have a really fantastic day David!