Moffat Teases a "Major Foe" returns for Doctor Who Series 8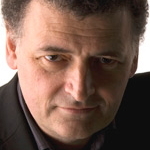 Steven Moffat has teased that a "major foe" will be back in Doctor Who Series 8.
In a BBC interview he said:
"We've got some cracking new monsters – the Teller. And we've got some cracking old monsters – the Daleks will be back. Another major foe will be making a return, but more of that later."
It could be any number of DW enemies, from the Autons to the Weeping Angels, but rest assured-the Doctor can handle it.
He also stated that:
"We're going to see what haunts the Doctor…"
See the full interview on the official website.