Monster Invasion – Issue 02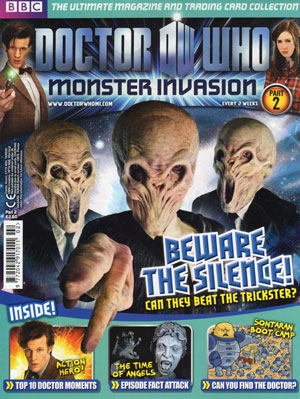 Monster Invasion Magazine Issue 02
Start collecting the awesome NEW Doctor Who Monster Invasion and build up a mega-monster magazine and cool trading card collection.
You can subscribe Here on the official site where you will find all you need to know about Monster Invasion magazine.
In This issue…
*Unit Challenge
*Top 10 Doctor Moments
*The Trickster V The Silence
*The Time of Angels
*Where's The Doctor – Sontaran boot camp
*Planet panic
*A is for Atraxi and much more
Issue two comes with part of the Tardis case to store your cards in, more cards and posters.
[Source: The Doctor Who Site]