Doctor Who: The Rings of Akhaten- Review
Doctor Who: Series 7, Episode 8
The Rings of Akhaten
Written by: Neil Cross
Directed by: Farren Blackburn 
Produced by: Denise Paul & Marcus Wilson (Series producer)


Executive Producers: Steven Moffat and Caroline Skinner


Broadcast Date: Saturday 6th April 2013 at 6:15pm on BBC One


Reviewed by Ryan Denyer for the Gallifrey Times


This is a post episode review and therefore will contain spoilers. All views on the episode are Ryan's and not those of The Gallifrey Times.
Before I'd start this review I'd like to welcome Neil Cross into the Whoniverse. I enjoyed this episode thoroughly and eagerly await his second episode of this series 'Hide.' I hope Neil Cross returns to write for the programme in the not to distant future.
Now, on to the review. I think this episode is one of the best episodes of Series 7 so far, and I know not many of you will agree with me but if you just look at the quality of episodes we've had so far:
Series 7: Mixed Bag?

Asylum of the Daleks – Good but rushed 6/10 

Dinosaurs on a Spaceship – Not so good with poorly developed characters 4/10 

A Town Called Mercy – Great plot, story, characters, monster and settings 9/10 

The Power of Three – Bad monster, bad pace, rushed conclusion but good premise 4/10

Angels Take Manhattan – Best Steven Moffat episode since A Good Man Goes to War- 9/10 

The Snowmen – Another great Steven Moffat script, but stop with the adaptations! 8/10

The Bells of Saint John – Poor plot, not enough monsters! 7/10
So it's not easy to pick a favourite from this list of poor stories. And with not a really good story since The Angels Take Manhattan, it's a relief to finally have a story worth watching!
This story also takes a break from being all about the companion and we get a nice traditional Doctor Who story that is about people and planets not the series arc! I can't think of any other New Series Doctor Who story like this, I may have missed one.
Matt Smith is brilliant as ever and it's nice to see the wonder in the Doctor's eyes again as he introduces the universe to a different companion. We're starting to get the fresh feel again like we did when Amy Pond first joined the TARDIS.
Clara is something awesome.
Jenna Louise Coleman is great too and the way Neil Cross has written her feels (and I mean to cause no offence here) a million times better than the way Steven Moffat wrote her in the last episode. Moffat's usual female characters are sassy and outspoken which Clara isn't so much of in this episode and that feels great! I would not mind at all seeing more from Neil Cross and I now plan to watch Luther, Neil Cross's own series. Of course it may be completely different but I hope Neil Cross writes this with the same enthusiasm that he wrote this one.
I must admit, from the trailers, I didn't think much of this but after watching it I realised that I shouldn't judge an episode by it's trailer. But everybody agreed that the episode did look a bit like The Beast Below and the trailer made it look like that but the episode is in reality nothing like it!
The monsters were great if a little underused (which seems to be repetitive this year) and the Vigils genuinely spooked me out! The way they walked in a pack and their voices gives me chills!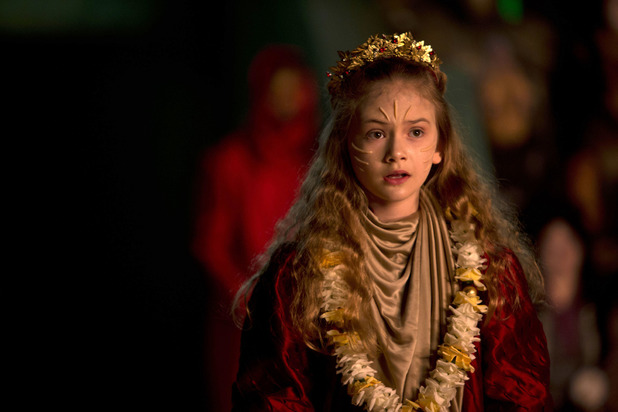 The Queen of Years
Emilia Jones is, in my opinions, the best child actress to appear in a New Series Doctor Who adventure for an awfully long time and her and Jenna Louise Coleman worked amazingly well together! I'm not sure if that was her real singing voice but if it was then…blimey that was great! This is the 3rd time now we've seen Jenna act amazingly well with children and all them children have worked well with her but Emilia Jones is above par in this episode, I'm not eager to see her character again as I see no reason to but I wouldn't mind if she did return.
The sonic screwdriver seemed to be used a little to much for my liking, even blocking the aliens powers. Another thing used to much…singing. Although it was nice and made the episode unique, it was used to much and there was never really a big explanation,
Overall this episode was great and one of the best of the series so far and a definite improvement on last week, and I can already tell it's going to be largely underrated by many, which I can understand on terms of singing and underused monsters. I cannot wait for next weeks episode The Cold War featuring the long awaited return of the Ice Warriors,  I can already tell that's going to be epic (oops judging my trailer again!) Look out for The Gallifrey Time's spoiler free preview during the week!
Ryan's Rating: 8/10
Pictures courtesy of Deviant Art and Digital Spy.